This functionality can be found in Manage > Email of the site and it allows you to populate details to send recipient emails through your own email server.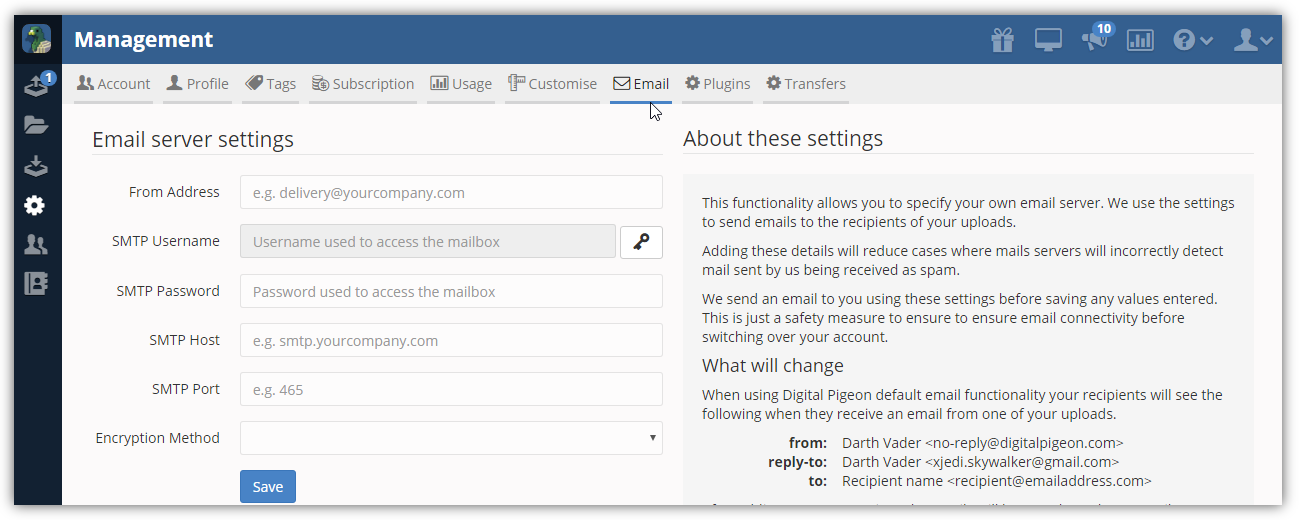 Adding these details will reduce cases where mails servers will incorrectly detect mail sent by us being received as spam.
We send an email to you using these settings before saving any values entered. This is just a safety measure to ensure email connectivity before switching over your account.
What Will Change?
When using Digital Pigeon default email functionality your recipients will see the following when they receive an email from one of your uploads.
from: Your name <no-reply@digitalpigeon.com>
reply-to: Your name <youremail@yourcompany.com>
to: Recipient name <recipientemail@theircompany.com>
After adding your own settings, the emails will be sent through your mail server and will have the following details:
from: Your name <configured_from_address> (e.g. delivery@yourcompany.com)
reply-to: Your name <youremail@yourcompany.com>
to: Recipient name <recipientemail@theirdomain.com>
Where do I get these values?
If you don't know the values to enter in the fields, contact your I.T. department or your Internet Service Provider (ISP) for the details. The fields contain example values that follow the typical format.
Recommendations for setup
We recommend that you set up a specific user on your email server that is only used for Digital Pigeon (e.g. delivery@yourcompany.com). This allows you to differentiate between traffic that you send and the traffic that Digital Pigeon sends through your server. It also means that any password changes are only necessary if you want to update the Digital Pigeon connectivity.
Common connection issues
The following issues may be reported after attempting to save the values entered:
Authentication Errors: check the username and/or password if it has the correct value.
Mail Connection Errors: check the server name and port. Check with your I.T. administrator or Internet Service Provider to ensure that these details are correct.
Other Errors: contact help@digitalpigeon.com if you encounter any other error messages being printed to the screen.
If you are using an Exchange Server, support will have to specifically be enabled by an I.T. admin. This is not a default feature for Exchange but can be enabled.
Additional Resources