We have enabled Two-Factor Authentication (2FA) for all users of the Digital Pigeon platform. Here's how to set it up to ensure you're as secure as can be.
How it works
Quite simply, 2FA allows us to verify that the person trying to gain access to the account is who they say they are. Even if your password falls into the hands of someone other than yourself, the chances of them also having your second-factor information are extremely unlikely.
to prevent brute force attacks on user passwords (e.g. writing a bot to attempt login over and over with random passwords) we now require users to complete a 'Are you a robot?' check each time they attempt to login

after a failed login
users can now configure 2FA by clicking the '2FA' button on the user settings page, admins can view and manage the 2FA state on the 'Users' list
All you need is a free, compatible app on your smartphone, for example:
Enabling 2FA on your account
Follow the same process to set up 2FA whether you're accessing Digital Pigeon through the desktop app or through your internet browser.
1. While logged into your Digital Pigeon account, select 'Account settings' in your user profile (top right corner)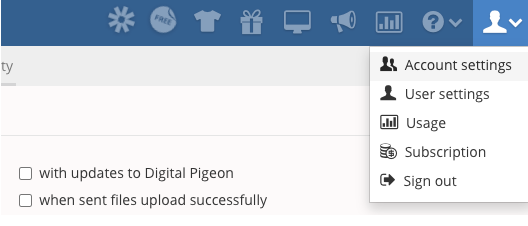 2. Select 'Profile' from the main menu of options

3. Next, beside the 'Change Password' button, select '2FA'.

4. A window will display with a QR code. Scan the displayed QR code. You will be prompted on your smartphone to open the authentication app which you have chosen and installed.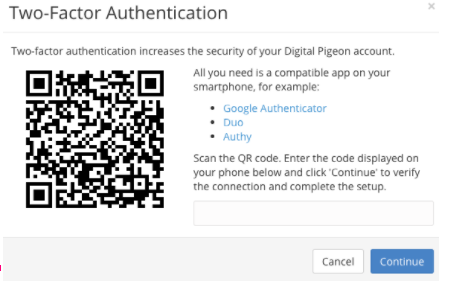 5. A code will then appear on your smartphone. Enter the code displayed and click 'Continue' to verify the connection and complete the setup.


We highly recommend all users to enable 2FA on their accounts. It's widely regarded as best practice and is an easy way to improve the security of your precious and valuable data.
Please note that there is currently no way for a single user account to recover their account if they lose their 2FA device.
On a multi user accounts, Account Admins can process the account recovery. To do that, Account Admins will need to contact the Digital Pigeon support team.
If you have any questions or require any assistance, please don't hesitate to get in touch.