Overview
In this article, we tackle speed comparison between the traditional speedtest websites' results with the Digital Pigeon upload speed.
A topic below also introduces the Digital Pigeon Speedtest Utility which enables you to perform a speedtest to all four (4) server regions to provide an estimate of the speed you will get with Digital Pigeon.
Click the links below to jump to the following topics:
Speed Test Results vs Digital Pigeon Upload Speed
Comparing speed test results to Digital Pigeon's Upload speed, you might see a difference and wonder why. Speedtest websites pick servers (locations) closer to you which maximises your test download/upload speeds. On the other hand, Digital Pigeon uses File Server Region as destinations for uploads and the farther the distance of your location to that destination, affects the speed. Therefore, relatively reducing speed compared to speed test results.
Speedtest
Speed testing enables customers to see their internet speed by measuring pings (latency), download speed and upload speed. The test works by sending pings to a particular server, it is then measured by latency, download and upload speeds. It is worth noting that speed test platforms pick servers that are nearest to you, maximising the results in favor of your ISP if there are no issues with connectivity.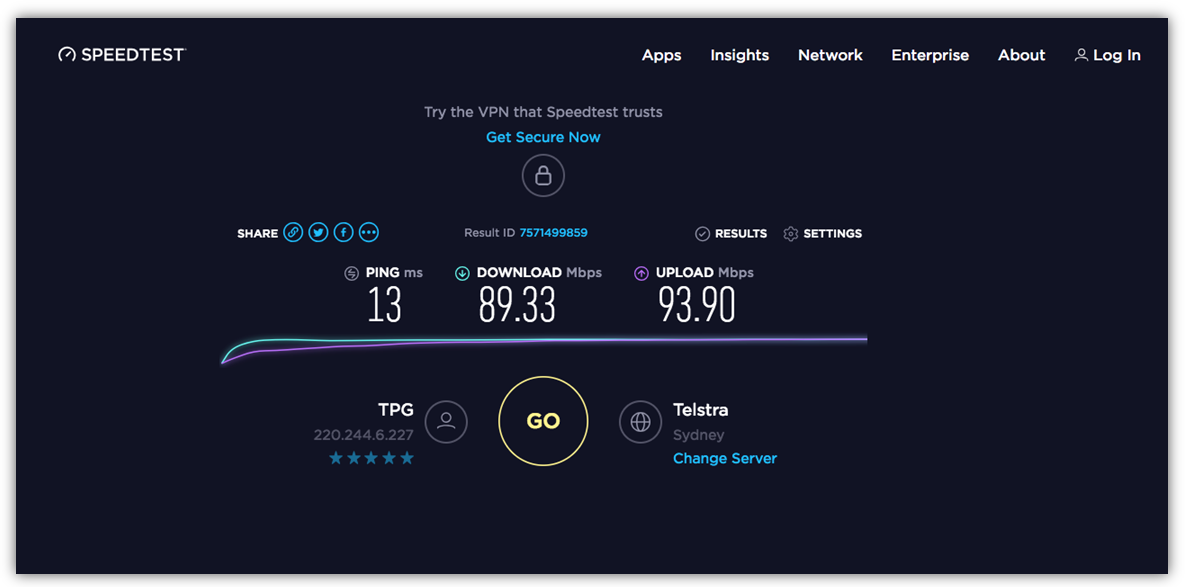 When conducting a speed test, we suggest choosing test servers that are near or somewhat related to your File Server Region. You can select one of these regions to match the comparison:
Europe - Dublin (Ireland)

Oceania - Sydney

SE Asia - Singapore

USA West - Oakland Northern California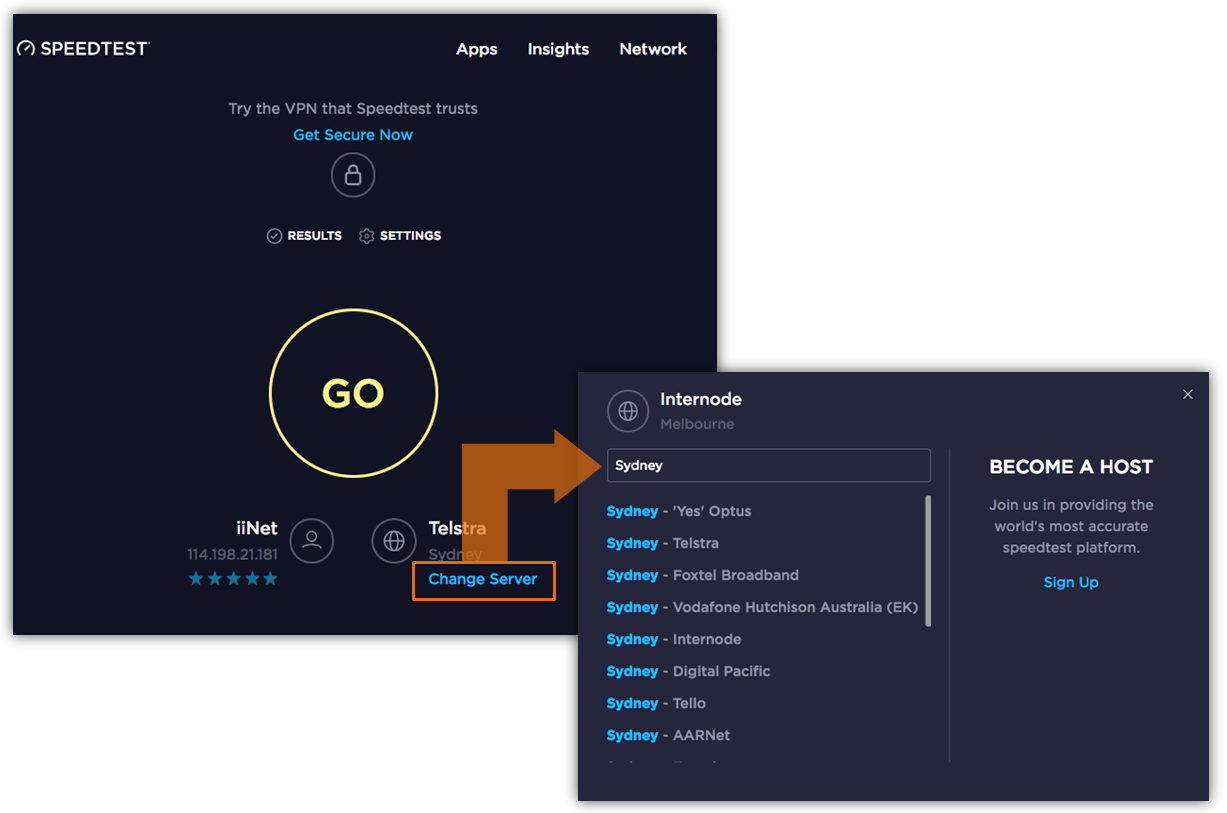 Digital Pigeon Speedtest Utility
What is the Digital Pigeon Speedtest Utility?
The Digital Pigeon Speed Test Utility is created to provide users an overview or expectation of what you will get when using Digital Pigeon. This utility enables you to perform speed testing for all the server regions giving you an estimate of how long it takes to transfer 1GB of files to the following regions:
Oceania
Southeast Asia
USA
Europe
The speed test utility is designed to provide a demonstration of upload and download speeds that you will experience while using Digital Pigeon. Each region will be tested with the same 1GB amount of file and display two (2) types of results namely: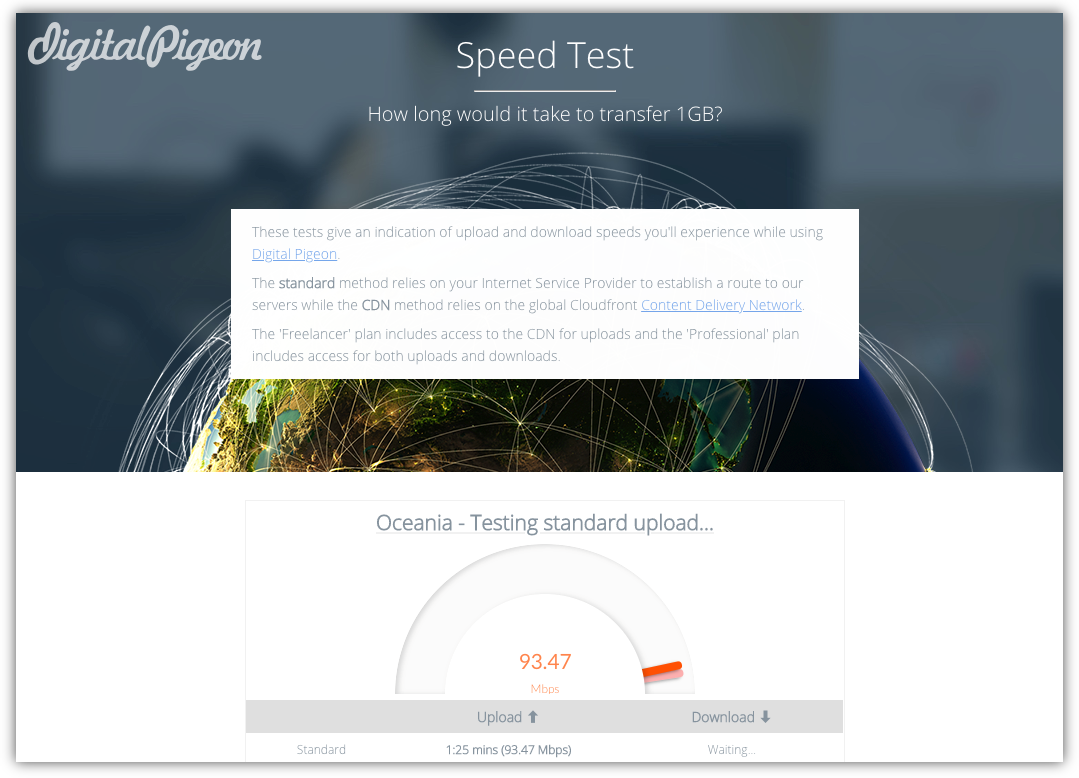 These results are the product of two (2) different methods in which the Standard method relies on your Internet Service Provider (ISP) to establish a route to our servers while the CDN method relies on the global Cloudfront Content Delivery Network (CDN).
You can use the Digital Pigeon Speedtest through this link: Digital Pigeon Speedtest Utility.
How does the Digital Pigeon Speedtest Utility work?
The utility works like other speedtest websites as its functions are pretty much the same, it measures latency, download and upload speeds. However, unlike the usual speedtest websites which test a single server destination, the Digital Pigeon speedtest utility tests four (4) of our server regions to provide you an overview of the best server to use.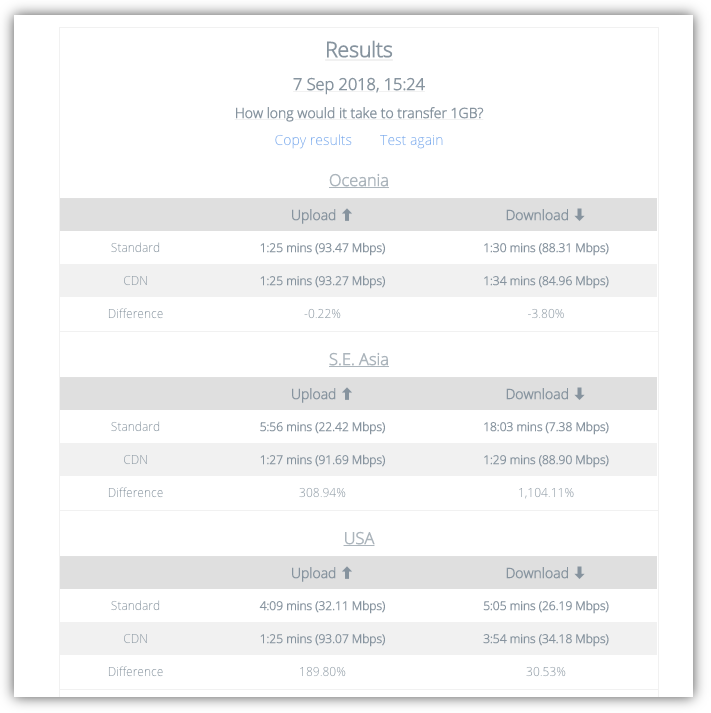 In addition, the usual speedtest websites display the ping, download and upload speed results, the Digital Pigeon speedtest utility, however, displays the Upload/Download with a comparison for Standard and CDN results. Lastly, it shows the difference between the two which gives a clear comparison of how both methods vary.