Overview
In this article, we will discuss speed comparison by region and how to get the result to share with the Support Team.
Also, linked below are some other articles related to speedtest which you may want to check.
Digital Pigeon Speedtest Utility
What is the Digital Pigeon Speedtest Utility?
The Digital Pigeon Speed Test Utility is created to provide users an overview or expectation of what you will get when using Digital Pigeon. This utility enables you to perform speed testing for all the server regions giving you an estimate of how long it takes to transfer files to the following regions:
Oceania (Sydney)
Southeast Asia (Singapore)
USA (California)
Europe (Ireland)
The speed test utility is designed to provide a demonstration of upload and download speeds that you will experience while using Digital Pigeon. Each region will be tested with a small amount of data in order to give an indication of the speed required. We then determine based on that test how long it will take to upload a 1GB file. Two (2) types of results will be displayed, namely:
Standard - relies on your Internet Service Provider (ISP) to establish a route to our servers.
CDN - relies on the global Cloudfront Content Delivery Network (CDN). It

refers to a geographically distributed group of servers that work together to provide fast delivery of Internet content. A

CDN

allows for the quick transfer of assets needed for loading Internet content including HTML pages, javascript files, stylesheets, images, and videos.
Like other speedtest websites, its functions are pretty much the same, it measures latency, download, and upload speeds. However, unlike the usual speedtest websites which test a single server destination, the Digital Pigeon speedtest utility tests four (4) of our server regions to provide you an overview of the best server to use. It displays the Upload/Download with a comparison for Standard and CDN results. Lastly, it shows the difference between the two which gives a clear comparison of how both methods vary.

Here's the link for Digital Pigeon Speed Test Utility. Once clicked, this link will automatically run the speedtest for all regions.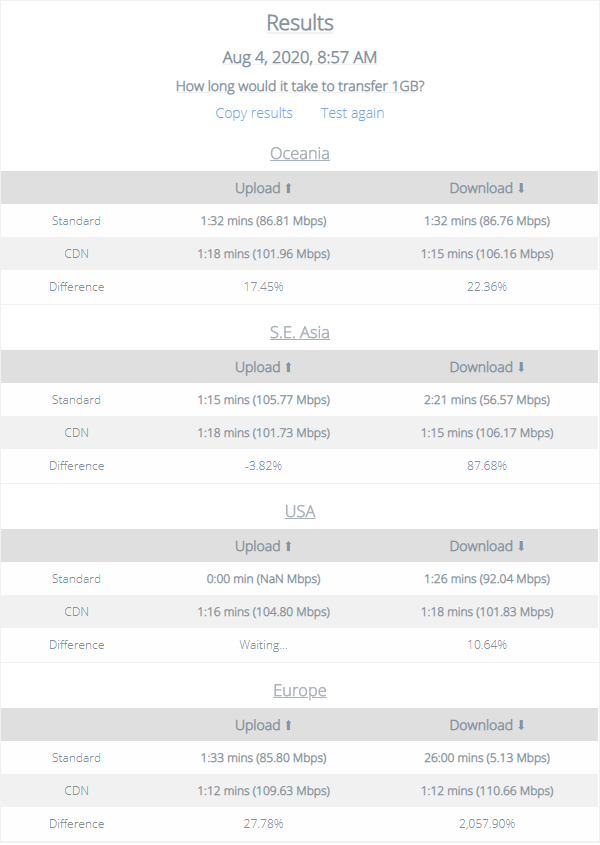 Showing the results may take a few minutes as it will test all four regions. Alternatively, you can select a region by clicking its name, this way, results will be faster as it will only test one region. Below are the links specific to each region.
Here's how it will look like if a single region is selected.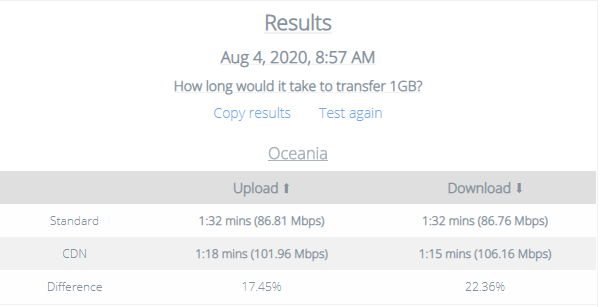 Now that we have the speedtest result, you may want to share the result to the Support team for reference for an issue you're experiencing. Click Copy Results.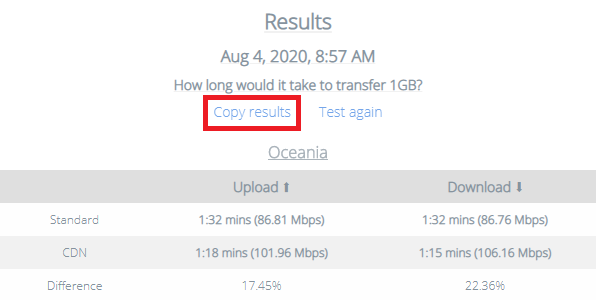 Please note that the result link is rather long. Here's how it will look like pasting it on your email.

You may then send it to help@digitalpigeon.com with a brief description of your concern.