The Manage Recipients/Participants option provides you with a brief list of actions done to the sent/shared files from the creator who initialized the files to the specified recipients/participants. You can revoke, resend notifications, and view unique links when this option is selected.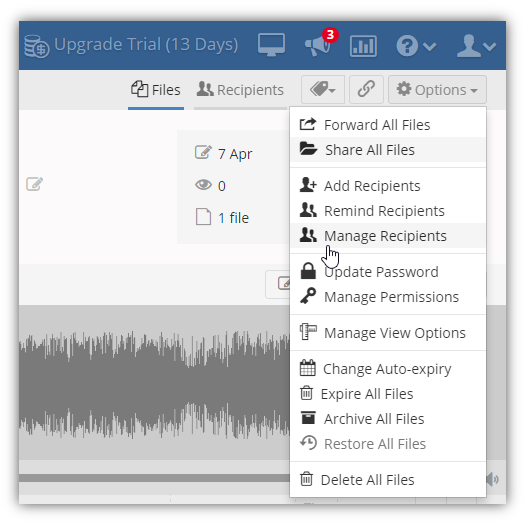 When using the Manage Recipients in the Send page, you will be directed to the Recipients tab and when using the Manage Participants in the Share page, you will be directed to the Activity tab.
Tips: You can also access the Activity and the Recipients tab by clicking them directly. See images below:
Accessing the Recipients tab in the Send Page


Accessing the Activity tab in the Share Page

Under the Manage Recipients/Participants options, you can do the following tasks: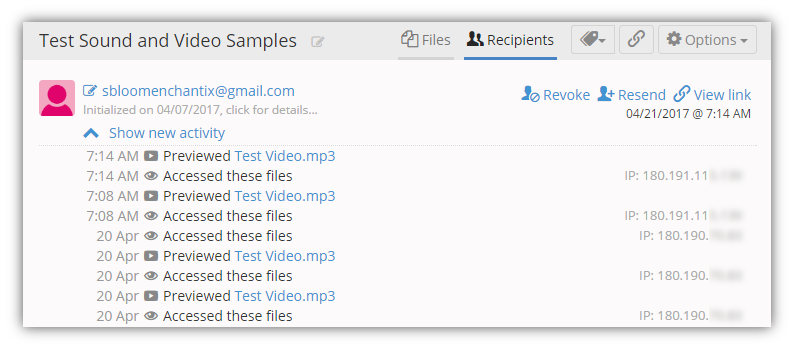 Revoke Access/Links: this option lets you deny recipients/participants' access by revoking their access/links.
Resend Links: this option lets you resend the links to recipients/participants.
View Links: this option lets you view the unique links the recipients/participants use to access the uploaded files.