Apply bulk operations to multiple uploads using the set of options above the Send/Share/Receive file list. These options are enabled whenever one or more uploads are selected.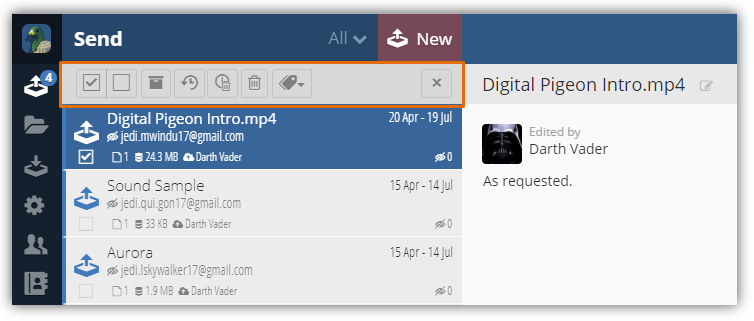 Use this feature efficiently by changing the context for the list of uploads as it allows you to display uploads with similarities.
On the Sidebar Menu, click send to open the Send feature.
In the upload file list, click the Checkbox of each of the sent files to select multiple items.
This will activate a set of options above the list that includes:

Select All
Un-select All
Archive selected files
Restore selected archived files
Expire selected files
Delete selected files
Add Tags
Close the enabled set of options

Click one of the activated options to apply it to the selected items.

Note: in this example, we moved multiple files to the Archived folder.
To activate the Search field and find a single upload, simply deselect the selected uploads or click the X icon on the activated set of options. This will disable the activated set of options and displays the Search field again.