The Digital Pigeon app runs with restricted permissions (or more specifically it doesn't ask for elevated 'Admin' privileges) which means it can only read and write from folders, external and network drives that don't require 'Admin' permission to access them.
In most cases the Digital Pigeon app will not allow you to choose folders it doesn't have permissions to, but if you do happen to choose a restricted folder you'll see see the message: Digital Pigeon does not have permissions to write to folder <Folder Name>. Please select another folder.
By default, when you add a drive to MacOS it gives Admin permissions to Read & Write but Me (your account login) is excluded. To allow the Digital Pigeon app to save to the drive or folder, you'll need to make sure that Me is listed in the permissions for the drive with Read and Write Access.
To change the drive permissions open Finder and Press Control on your Keyboard + click the Drive and open the Get Info option. Then under Sharing & Permissions, click the Plus (+) button and select yourself from the menu. Finally, choose Read & Write under Privilege.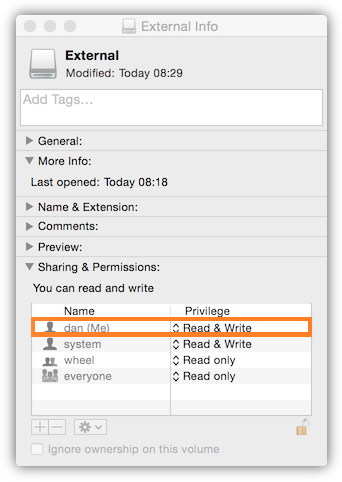 Note: Some users have reported that older versions of MacOS don't allow you to change permissions on network drives. Apparently this has been resolved by Apple in more recent releases of MacOS.