Contact tags or Contact groups enables you to create a group of contacts that have similar functions or the like. This method allows you to classify and organise them accordingly. In this article, you will learn how to manage the contact tags/contact groups.
Create New Contact Tags/Groups
Create new contact tags/groups using the manage feature. On the Sidebar menu, click Manage wherein you will be directed to the Management page. In this page, find and click the Tags tab to open.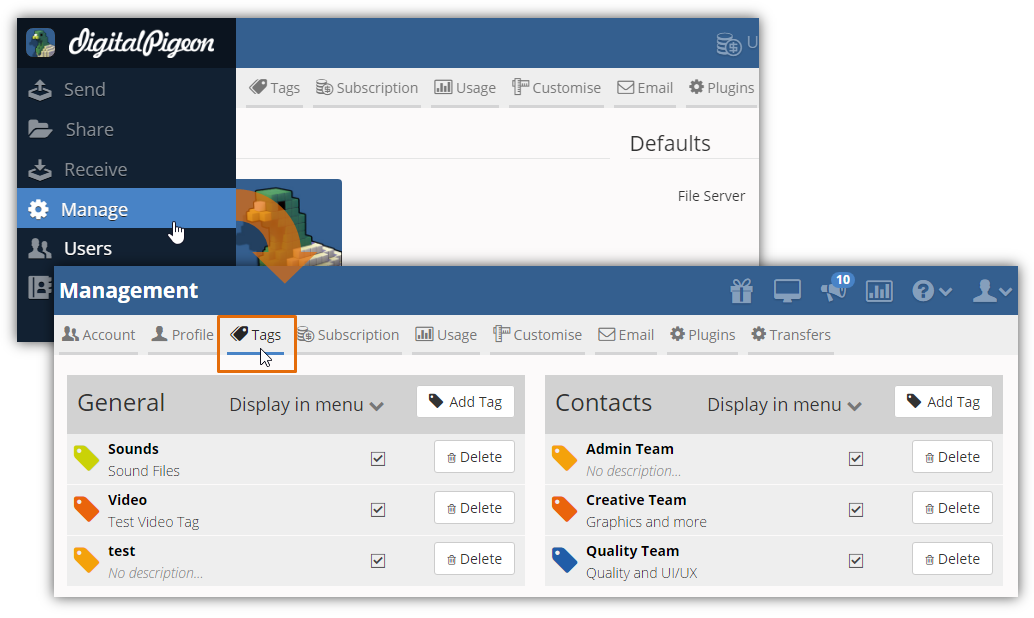 For contact groups, use the Contacts section's Add Tag button.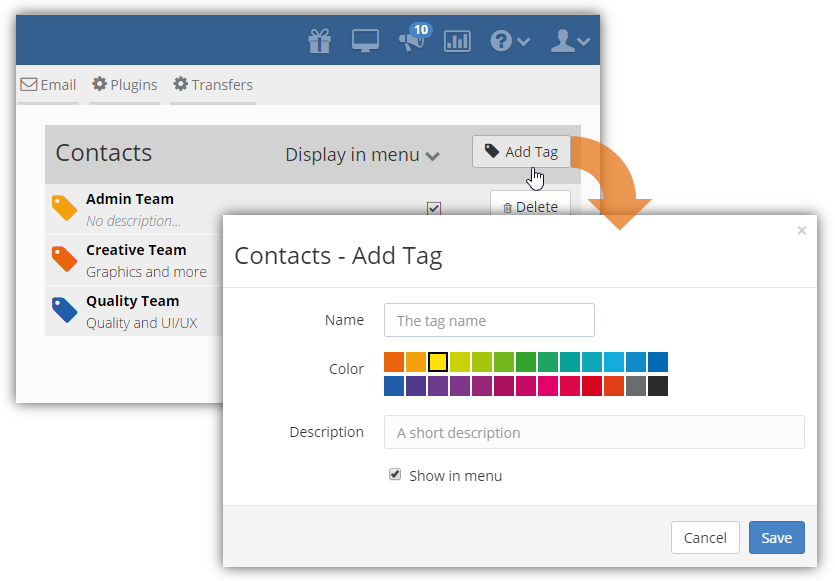 This will activate the Contacts - Add Tag window where you can specify the tag's details:
Name: enter the group tag label
Color: select the group tag's color
Description: enter a brief description of the group tag
Show in menu: when enabled, the tag will appear in the Sidebar menu's Contacts feature
After specifying the details, click Save to create the new group tag.
Edit Contact Tag/Group Names, Color or Description
Updating contact tags/groups enable you to change its name, color and description to represent the group. To update existing contact tags, open the Manage feature on the Sidebar menu and click the Tags tab to begin.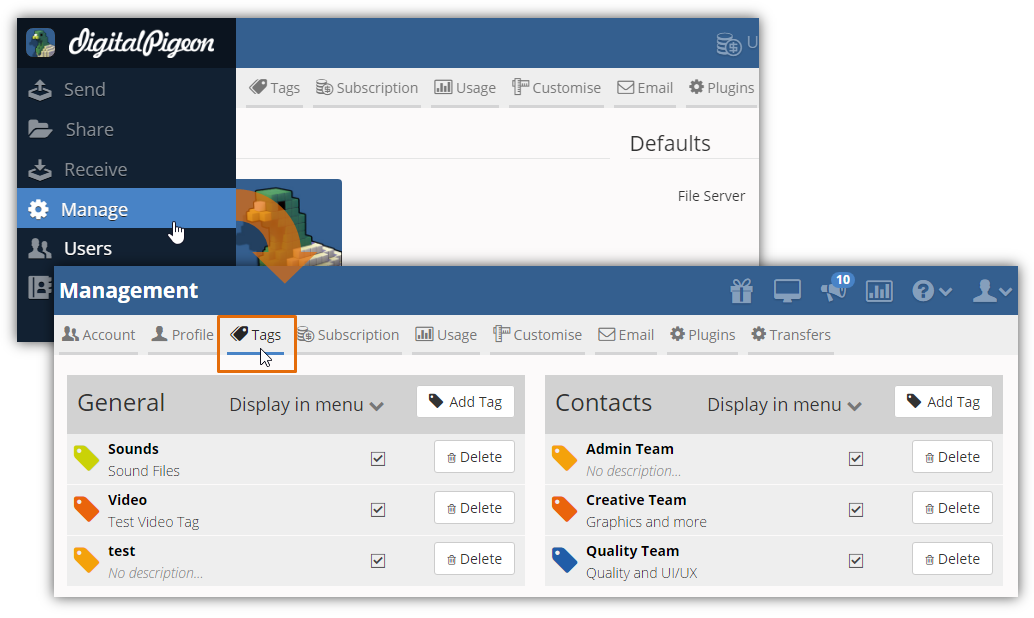 Find the Contacts section and select the tag that you want to update from the list. You can click on the Tag Name to open the Contacts - Update Tag window.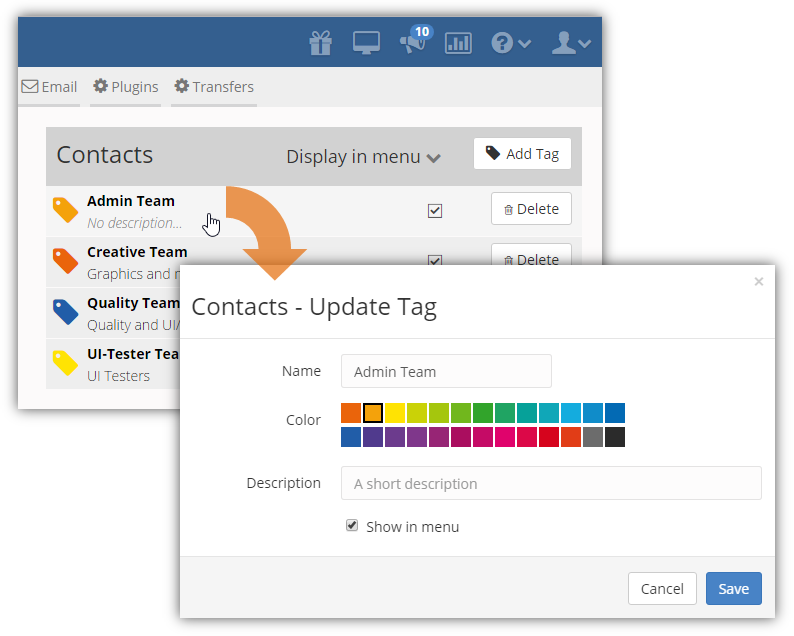 In this window, you can change the existing values of the following fields:
Name
Color
Description
Show in menu
Ensure to review the changes before saving the updated tag. If you are done updating the selected tag, click Save to apply the changes.
Delete Contact Tags/Contact Groups
On the Sidebar menu, click Manage and select the Tags tab.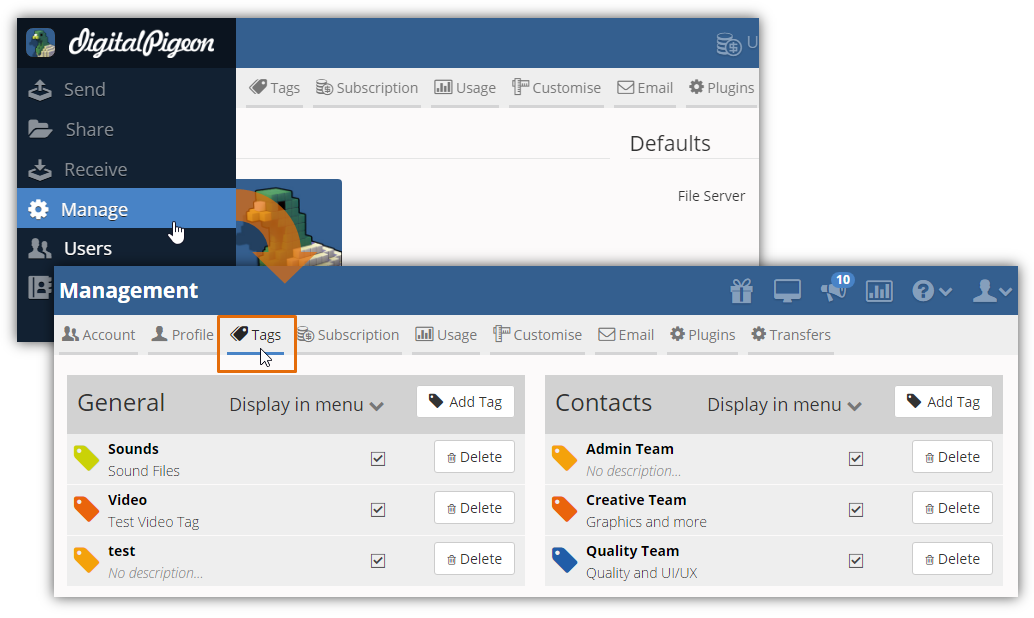 Once you are in the Tags tab, find the Contacts section and the contacts tag that you want to delete. Click the Delete button on the right, in line with the contacts tag/group that you want to remove.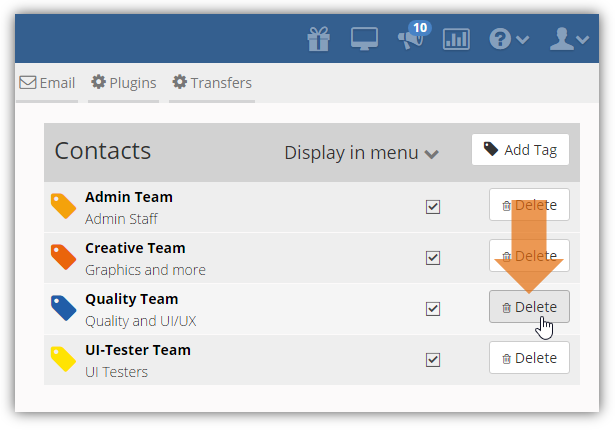 Note: clicking the Delete button will instantly remove the contacts tag without any confirmation. If you do not want to display a tag in the menu but keep it in the Contacts section, you can deselect the tag's Display in menu checkbox.